VIVEPORT allows you to purchase several subscriptions so you can purchase another Infinity subscription in advance. If you're already an active Infinity subscriber, you can purchase and prepay the same subscription plan or purchase a different plan. The newly purchased plan will become effective once your current paid subscription period ends.
To check your current and prepaid subscription plans, click your profile icon in the upper right, and then click "Infinity".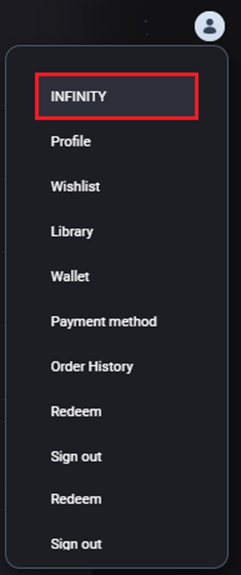 If you're an active Monthly Infinity Vista subscriber:
Purchasing Annual or Monthly Infinity Standard will grant you access to the Infinity Standard plan instantly.
If you are an active Annual Infinity Standard subscriber:
If you want to change from Annual to Monthly subscription instantly, please contact VIVEPORT Support to inquire first whether you're allowed to terminate your annual subscription. Otherwise, the newly purchased monthly subscription will only become effective AFTER your current twelve-month (annual) subscription ends. Once you become a Monthly Infinity subscriber, you will not be able to access premium titles, but you can terminate your subscription anytime without being restricted to the twelve-month commitment.
If you are an active Monthly Infinity Standard subscriber:
You can purchase an additional Monthly Infinity Standard subscription, so you can pay your next month's renewal fee in advance.
If you want to change from Monthly to Annual subscription, simply subscribe to the Infinity Annual plan and it will start on your NEXT billing cycle. As an Infinity Annual subscriber, you can access ALL premium titles. Please note that the Annual Infinity plan is an annual commitment charged on a monthly basis and you cannot cancel your subscription before completing the twelve-month commitment.