The Enterprise Content Platform is designed to help the enterprise user manage the content within your organization with the features below:
Upload company private content (.

apk

) file

.

Invite other users in your organization with different roles

and

permissions settings to use the platform

.

Create

a

user group for assigning content by group

.

Assign the uploaded content to groups and users

.
Once the content is uploaded and assigned to a user, the user will be able to find it in the Library>>Enterprise tab in Focus/Focus Plus for download and use.
Please follow the steps below to access and use the Content Management Platform.
Step 1.
On your web browser, go to https://enterprise.vive.com/us/dms/ to sign up for a VIVE Enterprise account.
Important: Use an email address to sign up.
Step 2.
There are two ways for activating your Content Management Platform System.
Submit your r

egistered info via

Vive Enterprise Platform Registration

(Follow the guide in the link)

Register VIVE device serial number on the Enterprise website and you will be able to use Content Management Platform right away.
Note: Registering the device serial number only grant user access to the Content Management Platform but does not include the commercial warranty (Business Warranty & Services program). The activation key of warranty is provided to customers that purchased a commercial Advantage program.
Step 3.
For registering device serial number, please login to the Enterprise portal, go to the Device Registration tab and click Register Devices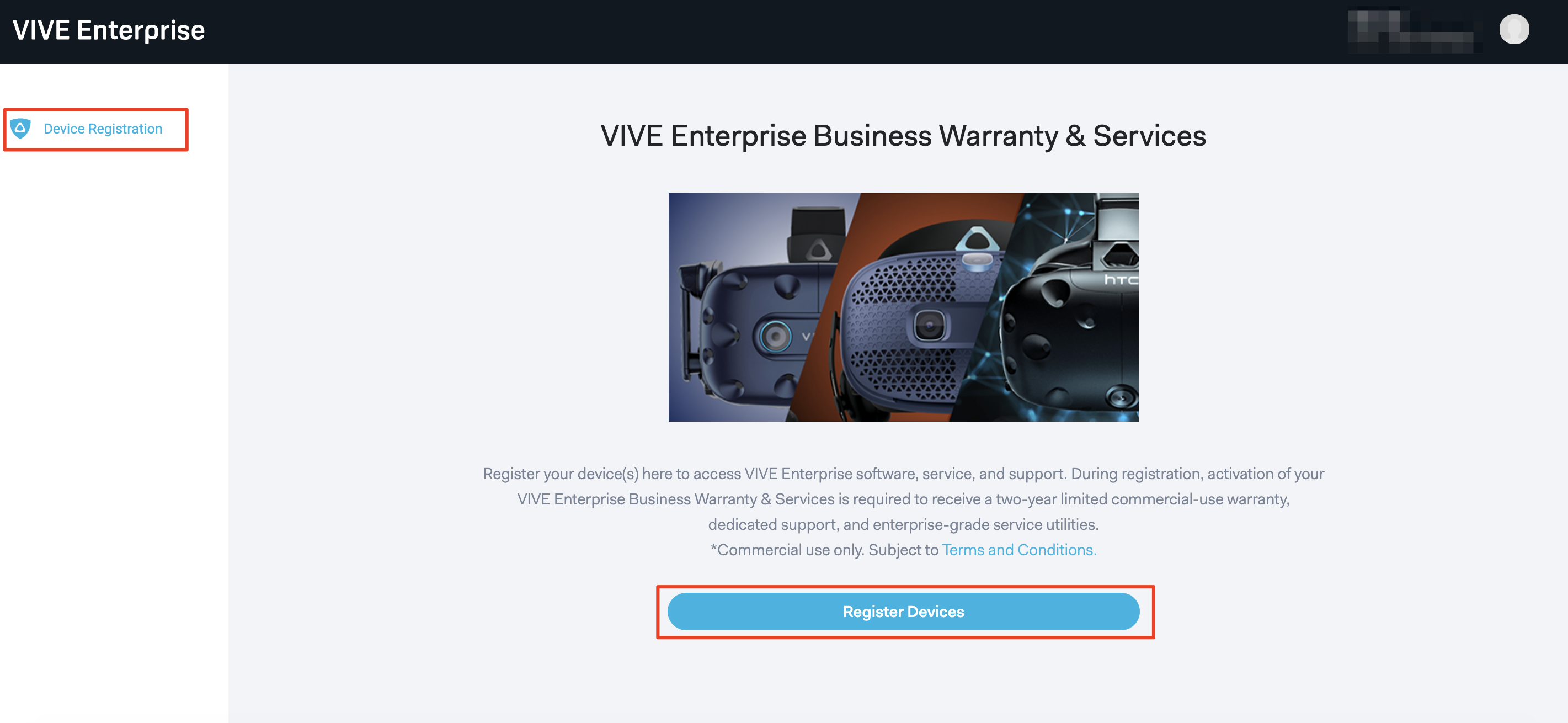 Step 4.
Enter your headset's serial number, location of purchase, and purchase date. Activation Key is optional field, you can also register the serial number first and fill in the Activation Key for the device later.
Note: If you can't find the serial number of your headset, hover over "To find the serial number, visit here" to check the example.
Note: For Activation Key, you can find it in your BWS Pack if you purchased it from a physical store. If you purchased BWS Pack online, the key was sent to the email address you provided. The S/N, location, and date cannot be changed once register BWS program.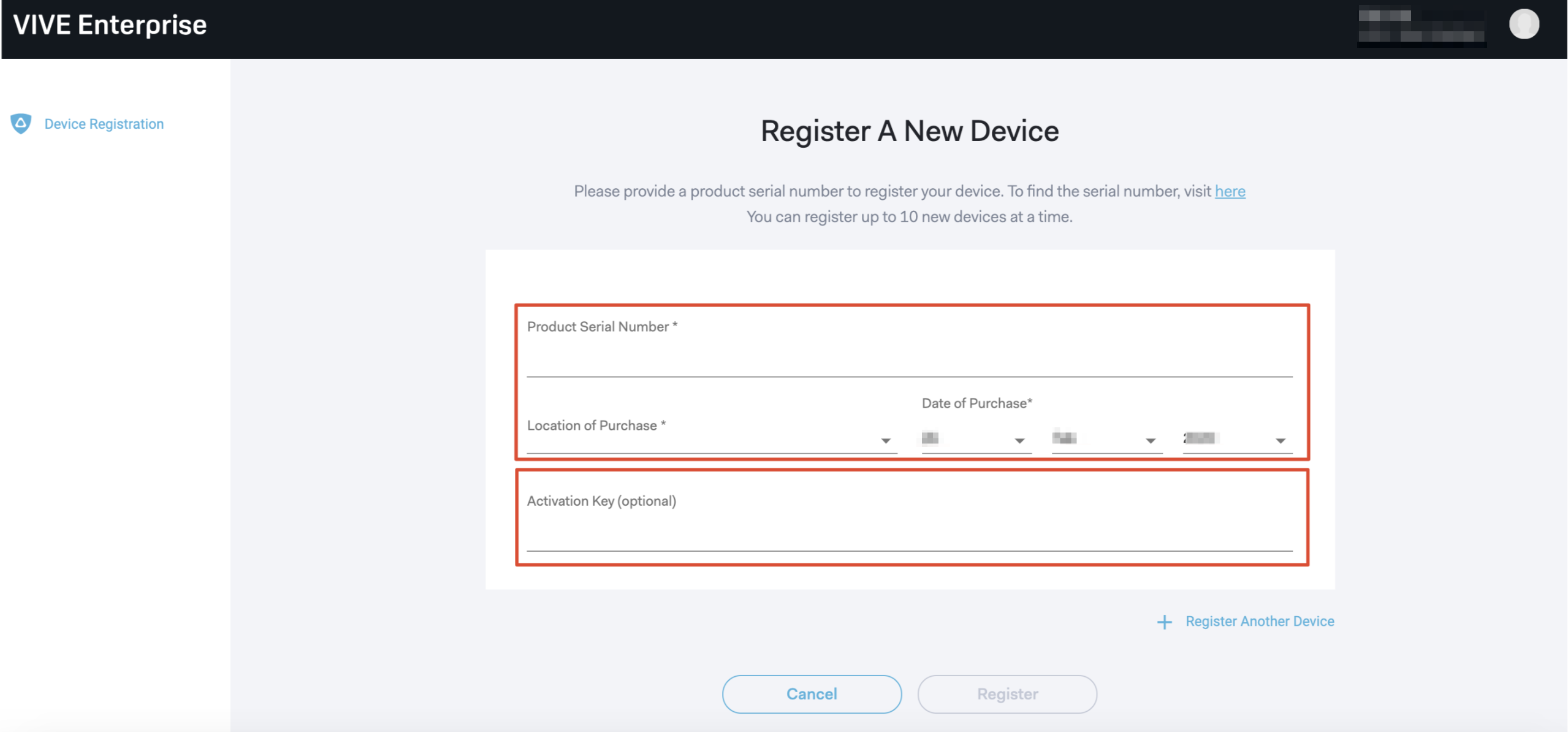 Step 5.
Confirm the provided information is correct and click Confirm. The Activation key field will be empty if not provided in previous step.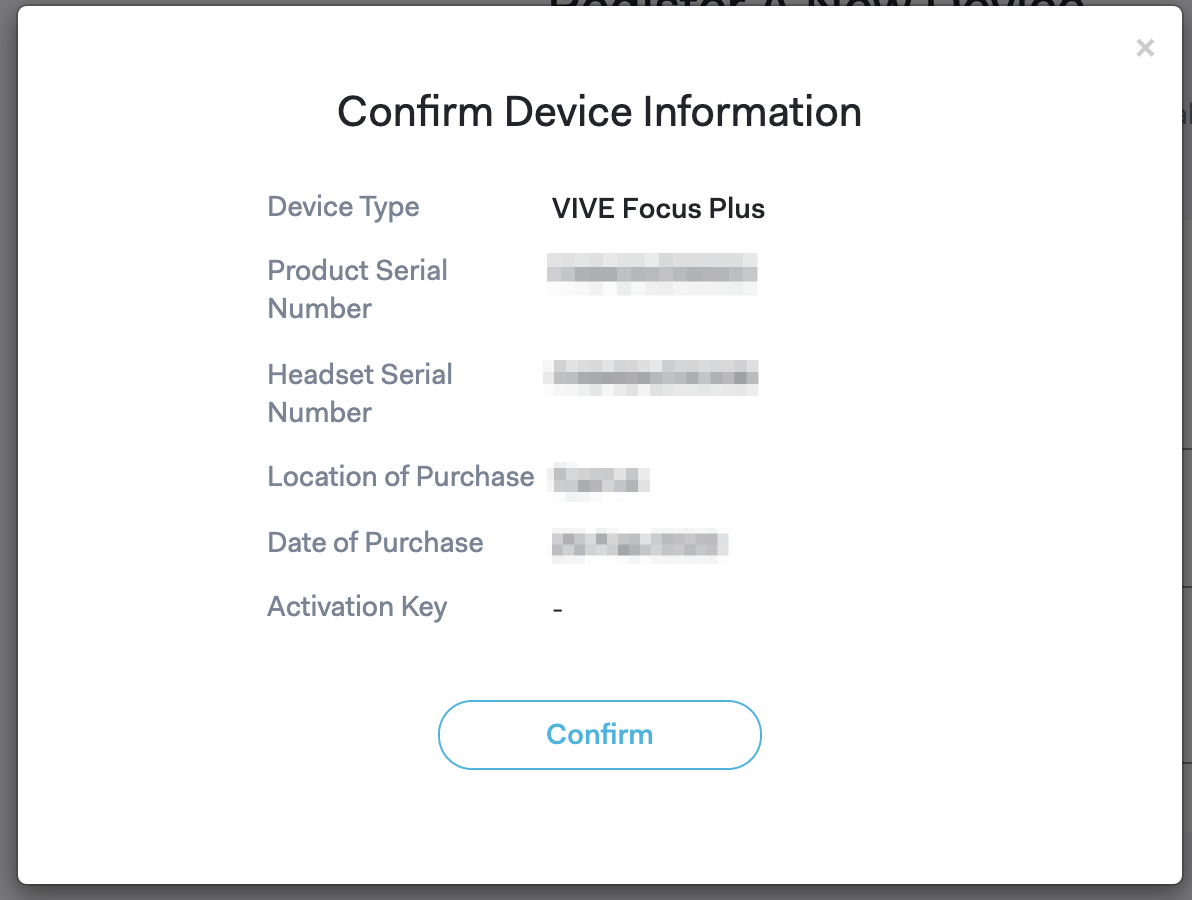 Step 5.
The headset you registered will be listed under Registered Device. You can click Activate Now on the list or inside device detail view to register the device warranty with Activation Key.

Once you have any registered devices, you will be able to access the "Manage Apps" & "Manage Users" page on the left panel.

If you are cannot see "Manage Apps" on left panel, please register your device first or request your permission via Vive Enterprise Platform Registration.