WHAT IS THIS OFFER?
As a welcome to the VIVEPORT platform, we are giving away two free months of our INFINITY VR subscription service to all Valve Index, Samsung Odyssey, Samsung Odyssey Plus and Oculus Rift owners. Both new and existing Infinity members can redeem two months of unlimited access to hundreds of top VR titles, in addition to membership perks like discounts, exclusive offers, and more!
HOW LONG IS THIS OFFER AVAILABLE? (THIS OFFER HAS ENDED)
(Expired) For Valve Index owners: Sep 1, 2019 to Sep 30, 2019
(Expired) For Samsung Odyssey & Odyssey Plus owners: Sep 18, 2019 to Apr 1, 2020
(Expired) For Oculus Rift owners: Sep 23, 2019 to Oct 23, 2019
HOW DO I REDEEM MY TWO FREE MONTHS?
Connect your device to an HDMI port on your computer and start the VIVEPORT Desktop app. From there, begin the process of joining a free VIVEPORT INFINITY trial. We'll automatically process your code and send it to the Redeem Page in your store account.
You can sign up for a VIVEPORT account and download all necessary software from https://www.viveport.com.
Note: Promotional codes are limited to one per device. For Oculus Rift owners, we're sorry, if you've already received this promo in the last campaign, you are not eligible to receive it again.
HOW DO I ACCESS THIS OFFER?
As you sign in to your VIVEPORT account with your new device connected to your HDMI port, you should see an automated pop-up message that looks like :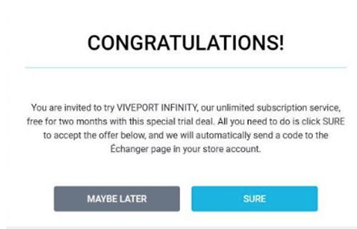 If you click the MAYBE LATER button, we will remind you of this offer only if you reconnect your device via HDMI.
If you exit the code redemption process at any time, you will still be able to find your code on your Redeem Page.
WHY AM I NOT SEEING THIS OFFER?
There are a few reasons why you might not be seeing this offer pop up on your VIVEPORT account:
Confirm that your version of the VIVEPORT Desktop is up to date.
Double-check that you have connected your device to your HDMI port and that your computer recognizes the connection.
Make sure you have not already redeemed this code on your device, as this offer operates on a one-code-per-device basis.
WHY AM I GETTING AN ERROR MESSAGE?
If you are getting an error message, it may mean that you have already used this device to redeem this offer. Double-check your Redeem Page for any codes you might have missed.
Another reason you could be seeing an error message is that your new device is not being recognized, either by your computer or by VIVEPORT. Try these steps to resolve the issue:
Check your internet connection, resetting it if necessary
Re-connect your device to your HDMI port
If the problem persists, contact VIVEPORT support and we will assist you directly.