"Process Error" messages are most likely caused by your version of VIVEPORT VR being out of date. Please update your app and try making your purchase again.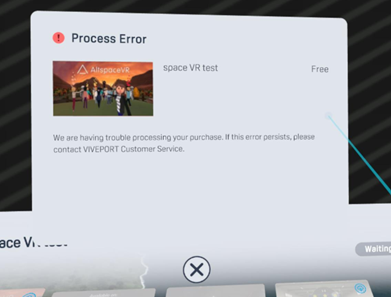 How to update the VIVEPORT VR App:
Launch the VIVEPORT Desktop App, click on your personal icon and then click on "Settings".



Select "Auto-update VIVEPORT titles" to allow the system to automatically download software updates.



Stay on the VIVEPORT Desktop App and go to your Library. Click the "Update available" option from the sidebar menu and select the VIVEPORT VR App to update the App.